The Free Spirits
Freeland Free Spirits program celebrates female-identifying, transgender, and gender-nonconforming Oregonians who are busting through the glass ceilings and soaring. These are people who think and act in an uninhibited way without worrying about so-called rules or norms. We might call them non-conformists, rule-benders, iconoclasts, mavericks, or bohemians. We might say they march to their own beat, to their own muse. We appreciate them for their abilities to help their community, to create beauty, to be original, to blaze trails, and to celebrate unabashedly.

Know a good candidate for our next Free Spirit? Nominate them today!
Caitlin Polis, American Nurse's Foundation COVID Response Fund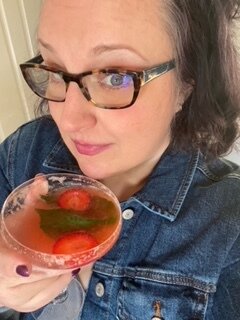 Caitlin has been a nurse here in Portland for almost seven years and as an advocate and historian, she is passionate about supporting all the front line caregivers in this truly unprecedented time. The work being done by our caregivers has been under a spotlight for more than a year and it is time to recognize the truly incredible work that goes on every single day, with and without a pandemic! Being a nurse is an incredible vocation and Caitlin is honored to be able to carry on the legacy. 
Caitlin chose the American Nurse's Foundation's Coronavirus Relief Fund as her nonprofit of choice. They are working to provide support for nurses across four tiers: mental health support, financial assistance to nurses facing hardships due to COVID diagnoses, expanding access to scientific resources for self and patient health, and bolstering advocacy for nurses and patients alike.
She Flies With Her Own Wings
Kim Stegeman aka Rocket Mean, Rose City Rollers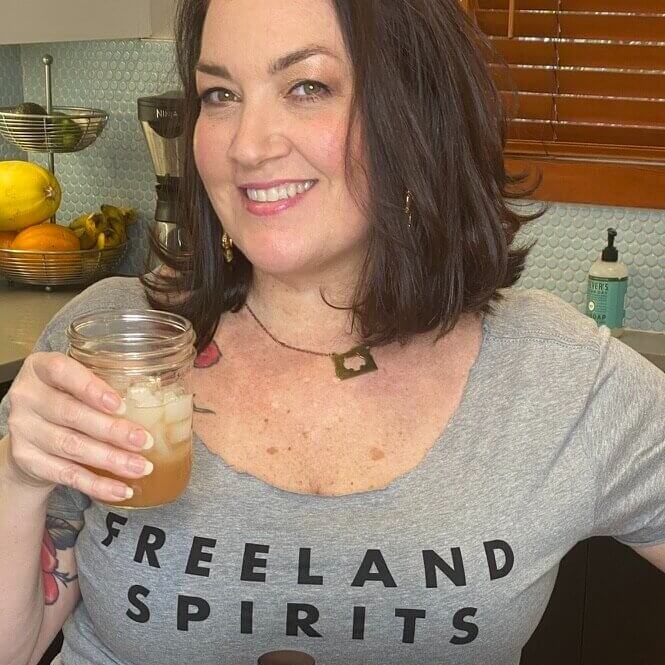 Kim Stegeman aka Rocket Mean is the founder and Executive Director of the Rose City Rollers, Portland's roller derby league and four-time world champions. She loves being at the helm an amazing organization serving women, girls, and gender-expansive individuals who want to play the team sport of roller derby, connect with an inclusive community, and realize their power both on skates and off. People in the derby world know her as "Mean", but nothing makes Kim happier than building community and seeing people have fun!
We couldn't be happier to support the Rose City Rollers with a portion of the proceeds from the Spring Fever cocktail kit.
She Flies With Her Own Wings
Caroline Fitchett, We Win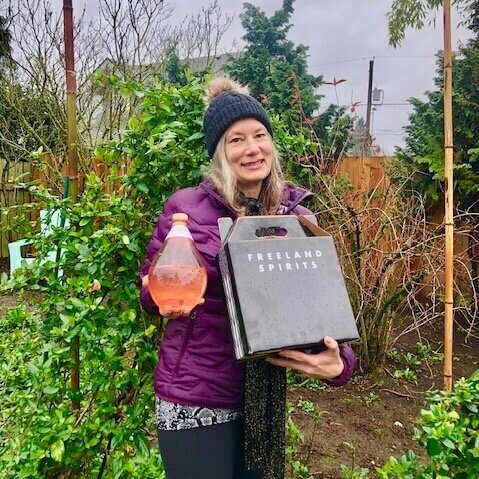 Caroline's work has shaped historic changes on issues ranging from climate change and education to healthcare and civil rights. With over 20 years of experience rooted in community organizing, Fitchett has run dozens of local candidate and ballot measure campaigns, legislative campaigns and, statewide ballot measures. Caroline heads We Win, a local strategy group that works to bring an activist's perspective to political campaigning, with the goal of using campaigns to build lasting power and capacity in our communities.
A portion of the proceeds from the Hibiscus Gin Margarita will benefit We Win to celebrate Caroline.
She Flies With Her Own Wings
Chris Otis, Smart Reading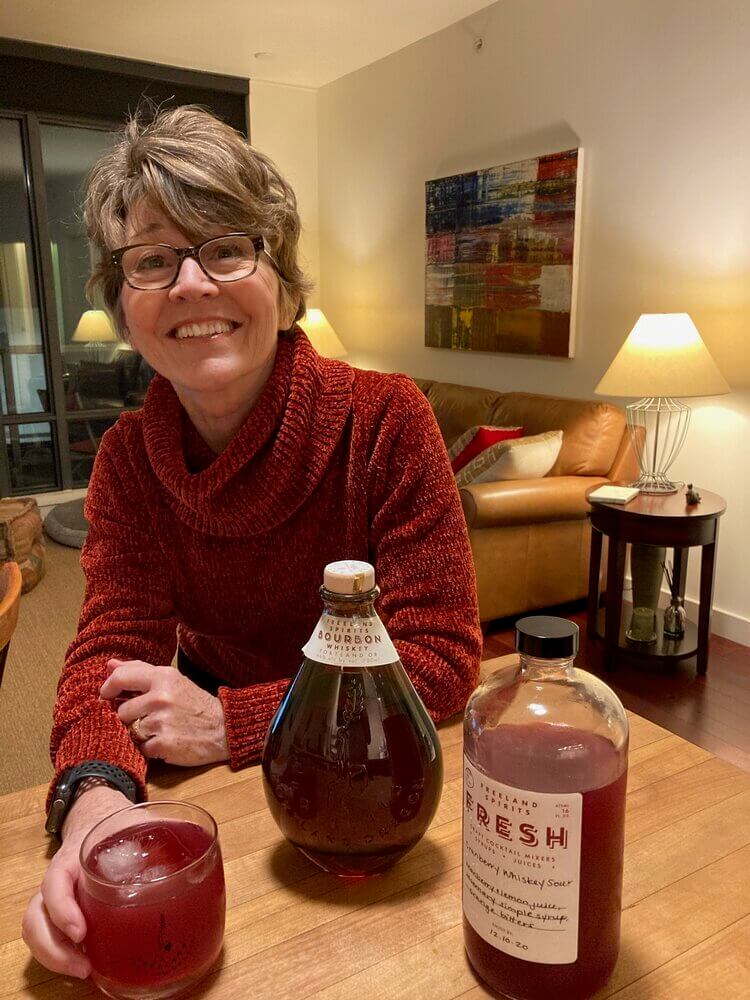 Cheers to our December Free Spirit, Chris Otis! Chris is the Executive Director of SMART, Start Making a Reader Today, which provides books and reading support to 12,000 low-income students across Oregon and supports educators who are in the thick of distance learning. When COVID hit and SMART's 5,000 volunteers couldn't go into schools, SMART built a virtual reading platform from scratch. And after schools closed last March, SMART still got 33,000 new books into the hands of kids. Thank you Chris, and all of the educators supporting our students right now. You're all heroes.

In honor of Chris, a percentage of proceeds from the Cranberry Whiskey Sour cocktail kit will go to SMART.
She Flies With Her Own Wings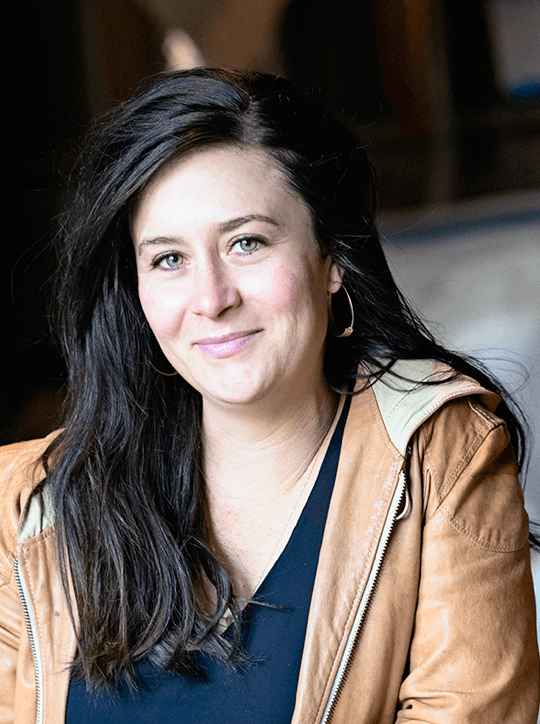 Katie Santora is the winemaker at Chehalem Wines. Katie has a degree in enology and viticulture from UC Davis and has traveled the world, from Australia to Chile, learning how to make wine. During her eight year tuenure at Chehalem, Katie has facilitated every aspect of the winemaking process. Katie has trained many female winemakers, paving the way for a more diversified wine industry. Molly and Lee of Freeland partnered with Katie and her team to make the new French 75 cans, with Freeland Gin, Chehalem INOX Chardonnay, bubbles and lemon. 

The French 75 Deconstructed Kit, including a 4-pack of French 75 cans, a bottle of Freeland Gin and a bottle of Chehalem unoaked INOX Chardonnay will benefit Salud!, supporting access to healthcare services for Oregon vineyard workers and their families.
She Flies With Her Own Wings
Eliza Canty-Jones, Oregon Historical Society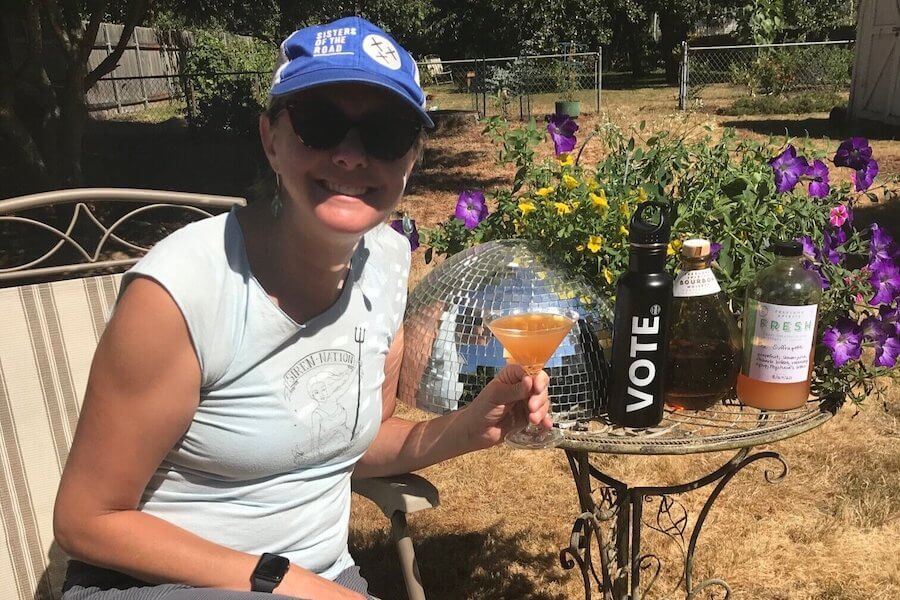 It's been 100 years since the ratification of the 19th amendment, which gave women the right to vote.  To honor this, and women everywhere, we honored Eliza Canty-Jones as a Free Spirit. Eliza is the Director of Community Engagement at the Oregon Historical Society and helps educate the community on the importance of women's suffrage. Proceeds from the Cocktail Kit "Nevertheless She Persisted" went to support the Oregon Historical Society.
She Flies With Her Own Wings
Alejandra Ferris, Centro Cultural de Washington County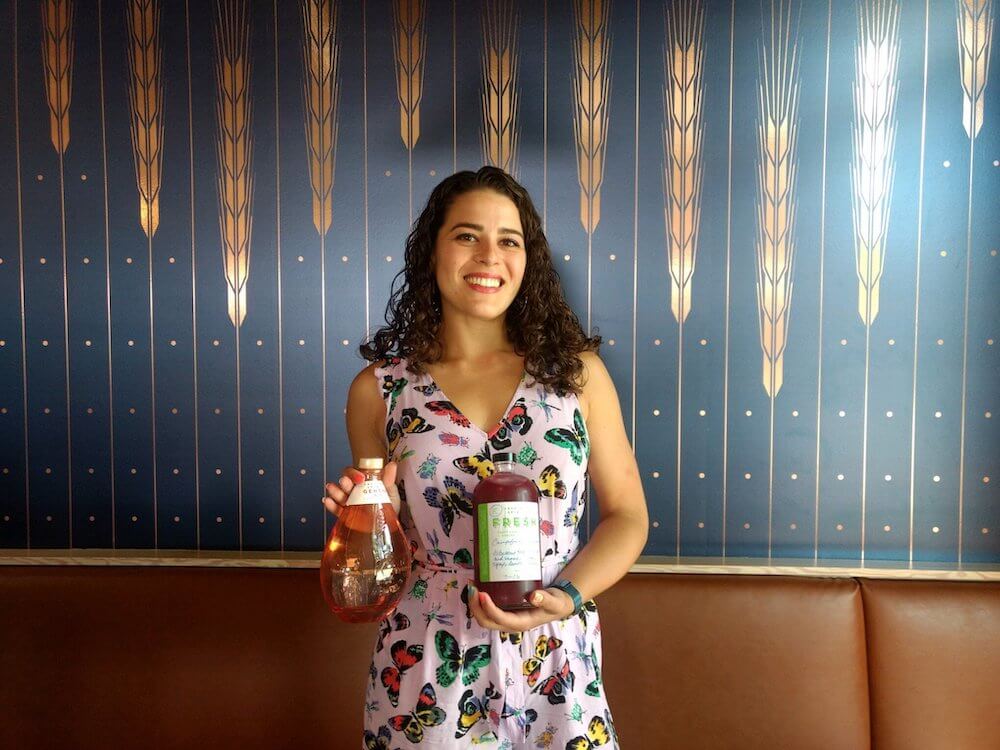 Congratulations to Alejandra Ferris, our first virtual Free Spirit! Alejandra was nominated by someone in the community who noticed her dedication to the Latinx community. Alexandra is a 3rd Year Clinical Psychology Student with a Sabiduría Latinx Emphasis.
Alejandra selected a favorite quarantine cocktail kit made with a Freeland Fresh hibiscus mixer. She renamed it "Verano Sin Fin" (endless summer, in Spanish, because that's what it tastes like to her!) A portion of the proceeds from the Verano Sin Fin and the Verano Sin Fin (2 ways with Geneva and Gin) will benefit Centro Cultural de Washington County for the next month.
Alejandra has poured hours into building and implementing a curriculum for culturally- and linguistically-sensitive health promotion for Oregon Latinxs. She is a leader on a team who have trained community leaders on how to promote health and wellness within their communities. Even now during COVID-19, she works to put together online and remote trainings for community members. She is a leader in social justice movements and inspires others to do more, speak up, or be louder about important social issues. Community outreach and engagement is a huge part of her focus as a psychology trainee, which will undoubtedly set her up to continue to make meaningful change for social equity.

*Some* of her outreach work includes: volunteering in our university's interdisciplinary diabetes clinic, visiting vineyards in the Willamette Valley to talk to workers about mental wellness, coordinating and/or hosting community trainings, training others to carry on psycho-educational work. Thank you, Alejandra, for everything you do for our community!
She Flies With Her Own Wings
Grace Hennessey McMickens, Brown girl rise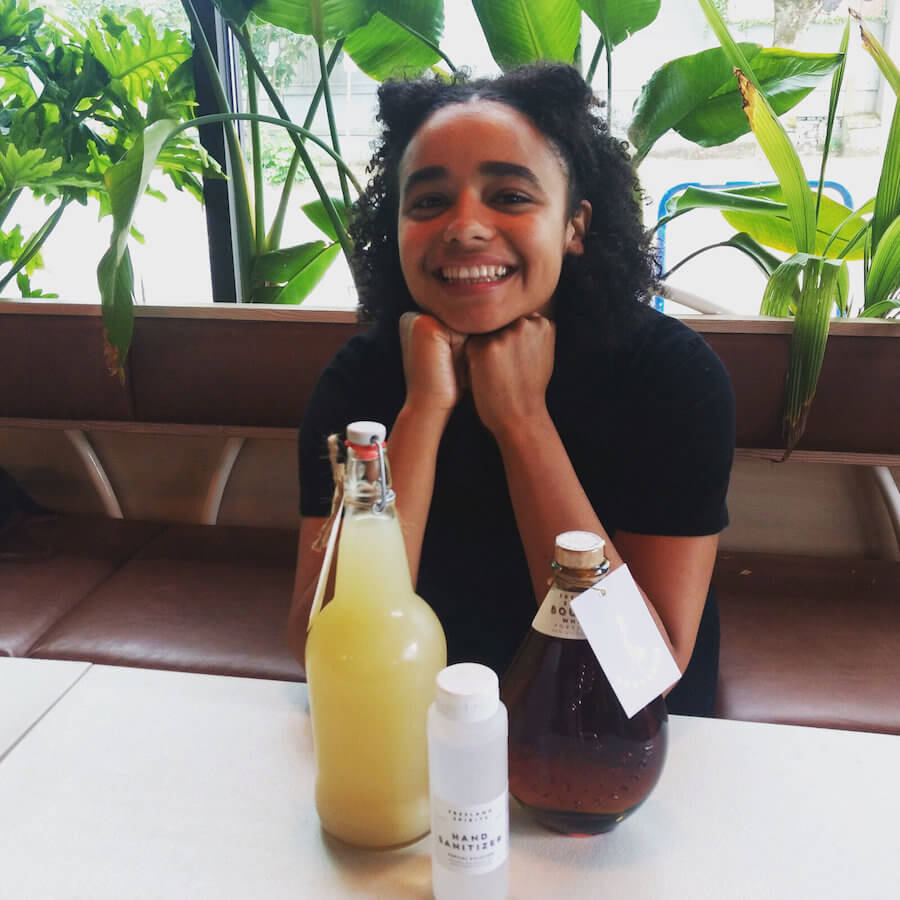 Grace Hennessey McMickens is this month's virtual Free Spirit! Grace is the Program Coordinator for @browngirlrise focusing on empowerment-based educational models for young femmes of color. She also volunteers time with Voz Worker's Rights Education Project and the Portland African American Leadership Forum. Grace loves our Rosemary Ginger Whiskey Sour cocktail kit- a portion of the proceeds will benefit Brown Girl Rise for the next month. Thank you, Grace, for the inspirational work you do!
***Grace has been such an inspiration for us that we've decided to support her and Brown Girl Rise for a second month.***
She Flies With Her Own Wings
Maxine Dexter is a critical care and pulmonary doc at Kaiser. She initiated and drafted a letter from 300 physicians to put pressure on the governor's office to act quickly to flatten the COVID-19 curve and has continued to provide leadership nationally with a letter to Mike Pence with now over 5000 physicians supporting her recommendations. In the midst of this, she has not removed her name from the ballot for state representative, but has said she will spend no more time on campaign events and is focused 100% on medical care for our community through this crisis. She is a huge advocate for equity and access to housing, education, and healthcare for all. 
Proceeds from each Freeland Spirits Booze Thru cocktail kit will go to a COVID 19 recovery effort of Maxine's choosing.
She Flies With Her Own Wings
Eboni Brown, Rosehaven PDX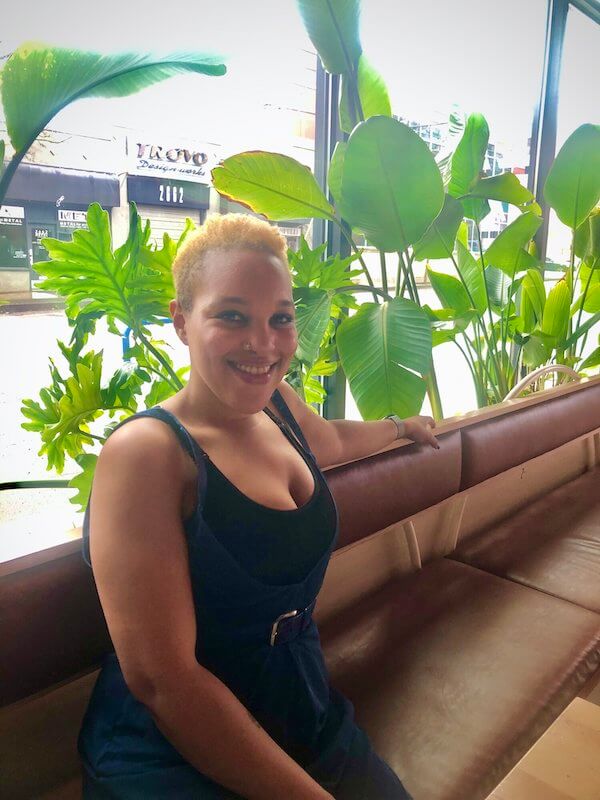 It's a beautiful day in this neighborhood,
A beautiful day for a neighbor,
Would you be mine? Could you be mine?
Eboni Brown leaves everyone with a desire to improve their neighborhood. All she wants to do is better her community, whether that be through activism, volunteering, coaching, or just showing up. Social work and community involvement has been a major part of her life and she surrounds herself with amazing individuals who have made it part of theirs as well. Come to our tasting room for a Neighborhood Mom cocktail and brainstorm how you can show up more for your own neighborhood.
NEIGHBORHOOD MOM
1.5 oz Bourbon
1 oz Lemon
.5 oz Ancho Reyes 
.5 oz Simple Syrup
2 dropfulls of. Hell Fire Bitters
Rim a rocks glass with Tajin
Shake all ingredients together.
Double strain using a Hawthrone strainer and a fine strainer.
Top with new ice and add a tamarind spoon. 
 
Proceeds from this cocktail will go to the Rose Haven Shelter for Women and Children. According to Eboni, Rose Haven is not just a place of refuge for those seeking services, but a place that has provided community and support for all those involved in the organization. Rose Haven has given her a home away from home and continues to work to provide more opportunities and increased awareness for those who are often left voiceless and without access to basic needs.
She Flies With Her Own Wings