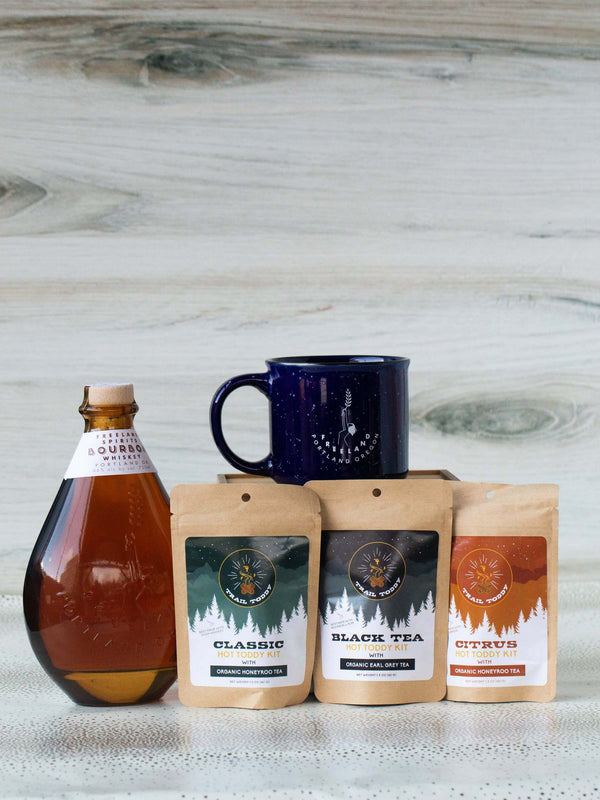 Northwest Toddy Kit
1 bottle Freeland Bourbon + 3 Trail Toddy packets (flavors: Black Tea, Classic, Citrus) + 1 Freeland mug

Who doesn't love a hot toddy on a cold, rainy, winter day? We've teamed up with Trail Toddy to bring you the best hot toddy we've ever had - and it couldn't be easier! These hot toddy kits include a bag of tea that is lightly sweetened with honey and spiced perfectly, as well as a cinnamon stick to stir with and dehydrated citrus and star anise to add extra flavor to your mug. Designed for the trail, but also great for an evening at home when you need a little comfort in a glass.
Also, if you're looking for adventure ideas to test these toddy's out, they have a PNW-ispired outdoor blog that has us itching for a winter getaway!
Pickup currently unavailable
Trail Toddy Recipe
2 oz Freeland Bourbon
1 trail toddy pack of your choice

Place contents of Trail Toddy package into a mug of your choice. Top with 8 oz of hot water and let steep for 4 minutes. Top with bourbon and stir with cinnamon stick. Cheers!