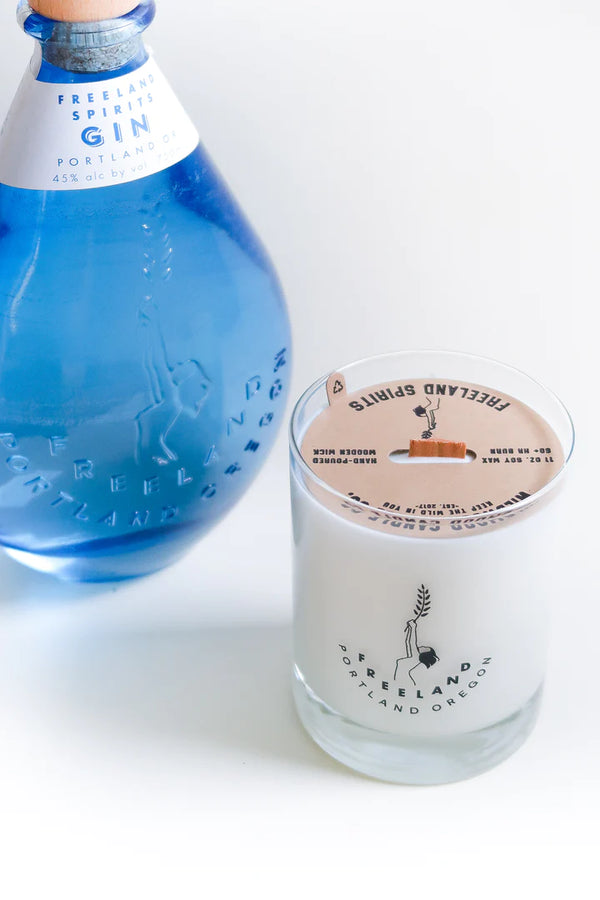 Freeland Gin x Wildwood Candle Kit
1 bottle of Freeland Gin + 1 Freeland Gin scented candle by Wildwood Candlo Co.
Have you ever tasted Freeland Gin and thought 'wow, these botanicals would make a great candle'? Our local Wildwood candles has solved that question in the most beautiful way! Wildwood candles crafted this unique 'Freeland Gin' scented candle with fresh aromatics of cucumber, mint, and juniper to take you on a sensory trip through our botanically-driven distillation process. We hope you love this local collaboration as much as we do, and can taste and sense through the lovely aromatics of both our Gin and Wildwood's candle.
"Wildwood Candle Co. creates scented wooden-wicked candles inspired by and dedicated to the vast trail system in Forest Park, Portland, Oregon. Born out of a love for candles, trail running in the park and natural, earthy scents is how it all started in 2017. Wildwood Candle Co. was founded to inspire awareness of this wonderful urban park we have access to, and to be able to give back a percentage of profits back to the Forest Park Conservancy to help maintain the ecological health and soft surface trails so that it can be protected and available to us for years to come."
Pickup currently unavailable